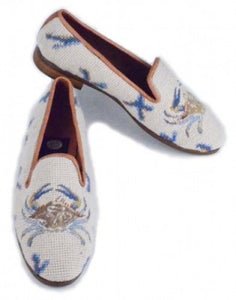 By Paige Handstitched Needlepoint Loafer Maryland Blue Crab Sand
The Maryland blue crab needlepoint loafer, is a classic design that everyone from Maine to Maryland love and wear.  Can be worn in all seasons for all reasons. The subtle shades of blue and a blend of ivory have made it a best seller in many regions. Best to buy from Lillie.
Features:
Leather Lined
Hand stitched
Available in sizes 6.5 -11.0 for immediate delivery.