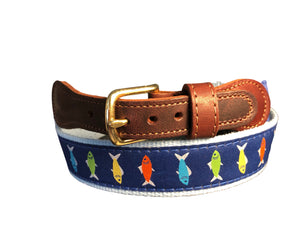 Boy's Preppy Ribbon Belts School is Out
 Love the look of "Schools Out" A great design created on ribbon and attached to 100% cotton webbing. If you are looking for quality and design, you have arrived. A kids favorite.                                                       
So popular custo9m canvas belt for Boys with a unique design of colored fish, called "Schools Out". Every young man will love to wear this belt with all of his Summer gear. Finished on 100% cotton webbing with leather tips and tails and a brass buckle. Wear this to your next fishing derby and you are already a winner.