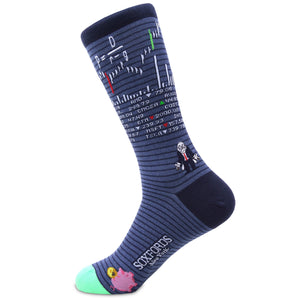 Soxfords Embroidered Socks Stock Market
DESCRIPTION
Dark blue socks feature an intricately patterned stock ticker (with accurate numbers highlighting a range of investments from GameStop to Tesla), with an embroidered financier confused as to where the money's gone! Detailed piggy bank, and dollar details throughout the foot and at the toe.  Finished with wide ribbed cuffs and extra stretch for comfort, perfect for anyone with money on their mind! 
CONSTRUCTION + FIT
One size fits most, comfortably accommodating US men's shoe sizes 8-13, women's 10+.
A fine mix of 65% premium Peruvian Pima cotton, 32% Nylon, and 3% Spandex.