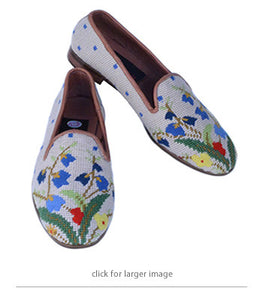 By Paige Handstitched Needlepoint Loafer Bouquet of Flowers
Love the look of fresh colorful flowers. This Needlepoint loafer is a  Garden Club favorite, filled with rich textures and soft soft spring colors of light blue, green and soft red finished on a wheat background. Buy yours now and shop with Lillie. 

Features:
Hand stitched needlepoint 
1/2 inch heel and composite heel.
Finished with a leather lining for added comfort.