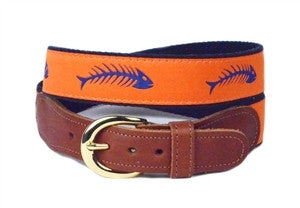 Men's Preppy Ribbon Belt Fish Bones | Designs by Lillie
Description:
Men's preppy  ribbon belt with colorful fish bone is set on a preppy orange background with images of royal blue fish bones. It is a staple that many ageless preppies love to wear.
Features:
Available in sizes 32 - 44 
Stitched on 100% cotton webbing for durability
Finished with fine leather tabs and a brass buckle.